A day after the 2016 U.S. presidential election, bestselling New York-based author Sarah MacLean said she vowed to use her "very considerable platform" to step up and speak up, as she wants to "make a difference in the world."

MacLean said she realized the book she was writing "had 275 pages of a character who probably would have voted for Donald Trump," so she deleted the entire manuscript. "I threw it all out and started over."
---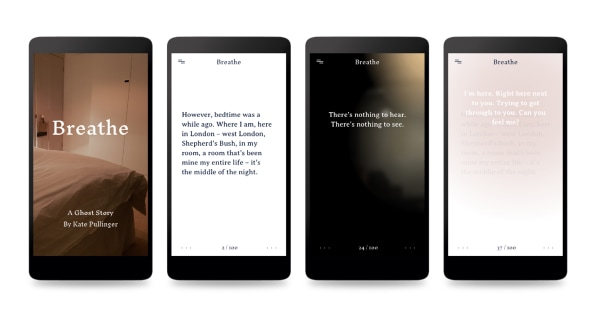 Emails, blog posts, and social media feeds were designed to be read on screens, but plenty of people still prefer a good physical book for reading fiction. What if screens could bring another dimension to literature, utilizing tech to create a new kind of experience where books respond to your presence as a reader, making the world around you part of the story?

These are the driving questions behind the project Ambient Literature.
---
The word cocky is beloved among certain romance novelists, both for its suggestion of arrogant, alpha-male heroes and for its euphemistic potential. After Penelope Ward and Vi Keeland's Cocky Bastard became a major hit in 2015, romance novels with "cocky" in their titles became a veritable trend.

One among the trendsters was indie author Faleena Hopkins, a prolific self-published romance novelist whose books include a series she's titled Cocker Brothers, The Cocky Series. It focuses on a set of brothers and eventually their children, all cocky and all with different job titles: Cocky Heart Surgeon, Cocky Cowboy, Cocky Senator, and so on.

But not long ago, Hopkins took steps to ensure that she wasn't just one figure in a crowded field. Earlier this year, she registered for and received a trademark on the word "cocky."
---
Nigeria's rich literary history includes some of the world's most respected authors, such as Chinua Achebe, author of Things Fall Apart, which has been translated to more than 50 languages; Wole Soyinka, Africa's first' Nobel laureate for literature, and Florence Nwapa, who is often referred to as the "mother" of modern African literature. In the current era, Nigeria boasts one of the world's best known authors in Chimamanda Ngozi Adichie, whose literary success has been amplified by her commentary on everything from feminism to African politics.
---
A vibrant journal scene with a roots-up feel to it has developed in Ireland in the past decade. There are currently in the region of 30 publications across print and online media seeking submissions multiple times a year. This has coincided with a growing enthusiasm for creative writing in general, with all of the major colleges in Ireland and many other cultural organisations offering programmes ranging from evening courses for beginners to two-year MFAs (Master of Fine Arts).