A Chinese crime writer working on a novel about a serial-killing author may have based the book's storyline on his own life.

Liu Yongbiao, an award-winning Chinese crime novelist, was arrested early Friday morning for allegedly bludgeoning four people to death 22 years ago, according to The Guardian.

Yongbiao wrote in the preface to his novel The Guilty Secret that he was working on a follow-up book about a murderous novelist who evades arrest.
---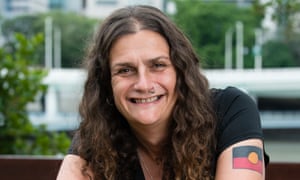 "Speculative fiction is one of the most powerful political tools in fiction," she says. "It's a genre in which there's great scope for Aboriginal literature. A lot of speculative fiction is written with a firm eye on the past and to use speculative fiction is often to be able to sneak politics into places people don't expect to see it. You can create a world that says what can't otherwise be said and surprise readers by showing them that they understand something they didn't think they understood."
---
The male midlife-crisis is part of our cultural conversation, but the menopause, in literature and in life, is the last taboo. While it would be impolite to discuss over dinner the messier aspects of the process, it is the purpose of the novel to be, as Henry James put it, "irresponsible", to take us to those places we would not otherwise go – where Kureishi takes us, for example, when he describes the sea engulfing his partner and children. Novels should show how our minds and bodies, however confused, uncertain, and stumbling, interact with the world, and so why, instead of rehearsing again and again the rituals of female fertility – courtship, marriage and motherhood – do women writers not give the menopause the attention it deserves?
---
In the aftermath of the great economic collapse of 2008, a newly unemployed immigrant from Cameroon was walking through New York's financial district. With her job gone, she wondered what to do next.

She saw a line of limos waiting outside an office building. Many had an immigrant chauffeur behind the wheel.

"I got this inspiration to write a story about this chauffeur and the executive he works for, and how the financial crisis affected their lives," said Imbolo Mbue. "And that is how I ended up writing this novel called 'Behold the Dreamers.'"
---
"Science fiction in China is still mainly a young genre and a genre for the young — with very passionate and exciting writing styles and grand settings for the stories," says Wang Jinkang, a retired engineer in his 60s and one of the most prolific Chinese science-fiction writers.

"We still think about social responsibility in science fiction and we take into consideration of the destiny of all universal beings, while Western writers now tend to explore internally and depict how individuals struggle with social issues," he explains.